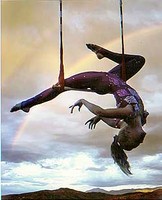 Truck driver.
Flight attendant.
Cruise ship attendant.
Librarian.
Archaeologist.
Letter turner on Wheel of Fortune.
National park ranger.
Dog walker.
Wildlife photographer.
American Gladiator.
Stunt double.
Foley artist.
Storm chaser.
Disney Imagineer.
Voice of an animated character.
Pet portrait painter.
Cake decorator.
Nanny.
Children's book illustrator.
Book cover illustrator.
Theme park designer/engineer.
Part of the Jeopardy Clue Crew.
An artist/designer for WETA workshop.
Set designer.
Costume designer. With a focus on period/historical costumes.
A performer in Cirque du Soleil.
A sports/physical therapist for Olympic athletes.
jan 30 2008 ∞
jan 29 2018 +