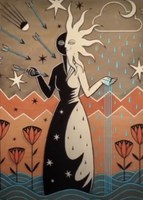 Getting to wait on the orthopedic's balcony, alone. Sunshine, lots of bees on the Bluebeard plant. Piano music coming from the room behind me. Acupuncture and cupping.
Wholemeal buckwheat cookies.
A fantastic self care Sunday morning. I was in the mood to give myself a neck and shoulder massage with the Aesop oil I'd forgotten after my face care routine. And then I even did an EFT session with Gala - I'd been planning to get back into that for such a long time! I also managed to write a few pages in my journal today. Did some stretching. Shook my booty in front of the mirror. I even stopped eating my breakfast when I realised I wasn't really hungry!
My new Desigual clothes! The fabric is so smooth and shiny and the colour are vibrant. The iridescent water glass I got just to save on shipping costs makes me very happy, too.
I found some of my mum's letters to me. They were very loving and touching. Of course I cried. I miss her so much.
Wearing a long, flowy dress - just to take out the trash.
Fabulous Schönburn experiences: Driving to Austria with Sandra, Marah and Robert. Bonding along the way. Hopping naked into a forest lake in the middle of nowhere. So peaceful. Eating disgusting pizza, making up for eat with our fancy grocery shopping. Planning a clothing swap, talking about school and travelling, yoga, trauma. Painting people's naked bodies makes for lovely and surprisingly deep conversations as well (I decorated Sandra and Katharina, Benni's old girlfriend who's here as well). Sandra taught us all some hooping tricks. I got a free cheese crepe and a Brazilian bean dish. Luiz handmade and and served travel tips for Brazil along with the food. He played the guitar for a bit, I sang. In the morning, I got a little glimpse into the future from two of the resident witches. Funnily enough, they talked about Kali and a few topics I'd journalled about right before the session. Alexander's immersive experience was pretty fantastic, too. I took part in the cuddle puddle which almost turned into an orgy for me so I left early and was proud of myself. Tried out whips and floggers at an impact play workshop. The lead, Kali, is such an incredibly gorgeous human being. I was in my first threesome (which turned into a twosome after I while and I was grateful for it). There were so many unexpected connections. I danced and kissed Nagu and Galya on the dancefloor. Engaged with Rafael in such a gentle and loving manner. I felt taken care of. Fox was certainly a surprise - he took a liking to me and we ended up in the Ranger HQ early in the morning, talking. And of course there was Christian. My innocent suggestion to play bingo together resulted in a hot two day love affair with alluring power dynamic, intimacy, suspension. He also made me realise that perhaps I'm not gay enough for the type of relationship I'd been engaging in over the last months (and Daniela's unwanted attention highlighted that hunch). What else? A fantastic breathwork session with deep emotional release (after which C. came into my tent, brought me ice-cream and held me tightly for ten minutes). Being appointed the title Moon Goddess. A fun photo session with crazy lights. Cracking up about Robert's odd choice of words. Long talks with Katharina - and being brave enough to ask her to meet for drinks once we're both back in Munich (I've been working on my "last kid to be chosen in sports class" self-image; that weekend actually surprised me by showing me that I'm so much cooler and desirable than I ever imagined). Winning bingo. Someone twerking to the sound of a Jew's harp.
Giggling while eating almond cream because it just tastes so fantastic (like the filling of Raffaellos). The same thing happened when I took my first bite of the nougat bliss balls I discovered at the drugstore.
An easy morning at school. The fact that my commute is SO much shorter now. One morning, I walked to school in the sunshine, discovered a bar with a lovely name ("Zum Spozl") and a cosy bakery, peope drinking their cappuccinos outside, everything seemed a little enchanted.
Hanging out by the river with some burners. Fox arrived a little later, lay down with his head in my lap and I carressed his hair. I made karaoke plans with Emily and Ben - he mentioned an artist I hadn't listened to in years, Macy Gray. I spent the next morning listening to my favourite album of hers. So good.
Cycling so much more. Even long distances. Feeling the power in my legs, making it through tough parts, realising that I'm not my body.
A nice little talk with a new colleague (of course, the resident nerd girl) who promptly invited me to a Wiesn meet-up with the staff.
I expected to have Covid but it was just tonsillitis. So at least I only missed one day of school in my first week there and didn't have to suffer a whole lot thanks to antibiotics.
Making vegan peach scones.
Anton, a colleague I can have entire ironic conversations with, trash-talk, it's like a never-ending joke. But behind the facade he's actually a super affectionate guy!
Gratitude journalling, joining an online breathwork class. Reaching out socially. Doing the work!
Making my first pumpkin soup this year.
Seeing beauty everywhere! Purple and yellow flowers. Compliments.
Two lovely experiences with doctors: The highly energetic lady at the orthopedic practice who exaggerated all her moves (which helped her explanations so much, I could follow her perfectly) and complimented me on my nail polish. And when my medication wasn't available, my GP just walked over to the pharmacy with me, took out her medical license like a boss and prescribed something different for me on the spot.
My latest OSHO Zen tarot adventures: The Miser and the Lovers fell out of the deck. And it's beautiful. I keep drawing No-Thingness now... does the Universe want to bully me back into meditating daily?!
The subway driver re-opened the doors for me when I arrived on the platform late!
Finally working with the Expressed workbook. Eliah's breathwork session.
A crazy squirrel jumping up and down in the garden.
Fluffy pink clouds at sunrise.
Catan night with Caro, Kevin and Dave.
A chill day on the balcony. Breakfast, reading, mani/pedi with my legs up.
Having frozen dumplings at home! Knödel-upon-arrival.
Long conversations with Fox. Realising how similar we are.
Attending an Isar jam session with Manu! Playing ALL the instruments. Singing together, walking over to a little birthday rave with Felix, Michael, Emily and Chili. Receiving support when a crazy guy came running after me and wouldn't let me go.
My new-found magnetism.
Crazy dancing in my living room as preparation for a breathwork session.
"Danke fürs Unterrichten, es hat heute Spaß gemacht!" - which is not what you hear from your students every day.
My obsession with homemade burritos. Freakin' delicious and an easy way to sneak more legumes and vegetables into your diet.
The first choir practice after a very long break. Connecting with Kathrin, Fiorina and Heike.
Long talks with Frau Herzen. She's such a sweetheart.
Turning my room into a corn field with a new colour-changing lamp.
An older gentleman struck up a conversation during my morning commute by acting surprised that someone was still reading a book in a world of smartphone addicts. We spoke English (presumably because I had an English book in my lap) but quickly switched to French upon learning that he'd lived there for years. I was sad to get off at the next stop already.
Inventing space bun pigtails. Such a fun hairstyle.
Finally splurging on a Perifit. Fuck yeah gamification.
Starting my Kartoffelkombinat test phase. Picking up my first box of vegetables from a neighbour's garage.
The Gasteig rooftop is my new hotspot. The sunset view is breathtaking up there. The first night I went there I felt very pretty and sophisticated. Talked to Sandra for a long time until Felix showed up and we all cuddled on a bench. I loved touching his hand and his little carresses. What a gentle person!
Celebrating Sandra's birthday with a roadtrip to a lake south of Munich. I played sea monster with Tatjana's little son Lou and Robert taught me his best chess moves. Cake, prosecco, playing ball. Naughty sunset photos. Love!
Hanging out with Manu in the park. And meeting up for sushi. I love getting him to go take a break from work on Thursdays and spend some time with me.
Going to the gym with Caro! She lent me all the stuff I'd forgotten and corrected my posture on the machines. Gracias!
My therapist agreeing with me. Having a great conversation. And I actually get to give HER advice now sometimes.
Being pampered at the hairdresser's. I love Peggy, she's such a cool person and easy to talk to.
Meeting Franzi. We hadn't seen each other for such a long time. And that's always our dynamic - whenever we see meet we can't understand why we don't see each other more often because we get along famously. We talked about our dead parents and medical history. Life, plans, aspirations. I love her. Sitting outside Cafe Colombo with her felt like a warm embrace.
Bringing Manu along to choir practice! Everyone loved him and gave him a warm welcome (and Andrea compared him to a Viking?!). I've got two choir husbands now.
Visiting my granny friends on a very rainy Friday. Bringing my homemade Amaretto walnut cake. Promising to cook a tofu dish for them they'll actually enjoy.
Taking out the recycling one Sunday morning. Stopping at the playground to lie down in the nest swing.
Attending the Two Steps from Hell concert at Olympiahalle with Lena, Manu, Obi and two other friends. I loved the background choir and the majestic vibes. Whispering to Manu and Lena. Getting sour candy. Drifting off sometimes, thinking about C. Feeling hot wearing a see-through top and all black. Maintaining eye contact with a dude I thought I might know (and find attractive).
Getting back into graphic design work by designing a flyer for the clothes swap party I'm going to host with Marah in November. Next projects: the new playspace bingo sheet and a catcalling stamp.
Advertising my sex therapist services in a room full of parents.
My Wiesn evening with colleagues. I had the best conversations with Andrea, asked everyone what their go-to karaoke songs were. Grinding with Anton. Got a vegan sausage with Karina and schemed where to get a pocket knife to become blood sisters. I met Isi and realised that we'd already been to a wedding together. My highlight was getting to know Vietzi who's side hustle is working as a famous house DJ. When I looked into his eyes he held my gaze for a long time. Intense. And he smelled SO good.
I had a very positive experience with a class everyone had warned me about. In the end they even wanted to keep me as their class tutor!
Spekulatius almonds. More addictive than crack. Freeze-dried strawberries and spelt flakes.
A doggie showing up at choir practice. Learning complex/multi-layered new (for me) songs.
Learning that my therapist used to be a bookseller.
Lunch break at Gans am Wasser.
Cycling to the gym, getting a whole day for free. Hanging out on the rooftop, taking selfies. Having the sauna all to myself. Going swimming, doing strength training.
A strong massage.
Saving bakery goods via the TooGoodToGo app.
Getting shit done despite being SO tired!
The fact that my colleagues tell me what to do when I substitute for them! I love it when I don't have to came up with a random topic for students I don't even know.
Only preparing ONE wrap instead of two (which inevitably leads to overeating).
Another evening at Dachgarten with Sandra, Robert and Frank. Julien was there with his Micro Disco. I met Feli who told us about the Avantgardista fair and I hugged Stefan and Heike (these guys are the best).
Chili's birthday party! Emily's strong drinks, Ben's crazy accents. Slap shots. Trying N₂O for the first time. Painting Stefan's face with neon colours. A goodbye kiss.
Having my bike fixed (and the guy actually hurried up the process for me)! It feels amazing not to have loose pedals anymore - and working breaks don't hurt either.
sep 1 2023 ∞
oct 3 2023 +