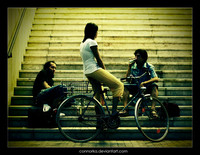 Talicia

I can talk to you for hours on the phone about nothing at all. I can't do this with anyone else.
The fact that I pretty much consider you smarter than anyone else I know.
You may look small and innocent but you are not.
We will always have an understanding.

Jeff

Mr. Red Godlen Love
Random combo of things most people wouldn't like.
You make me feel like I am home.
I can talk to you about anything.

Lauren

We talk about sex more than anything else.
It's fun to get stoned with
Always entertaining.

Johnny

Work entertainment.
Is also a stoner.
Shares the same bday as Jeff.

Julian

Nerd rage moments.
Teaches me swear words in German
Skype.

Shane
Lennard

General amusement that makes me smile.
Shyness.
Stonerness.
jan 29 2010 ∞
nov 25 2011 +