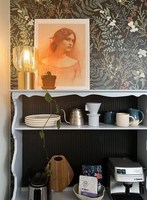 how my new pyjamas, socks, rosé-gold nail polish and wristwatch all complemented each other
cinnamon bun, new book, french fries
lamb's lettuce, snack apples, chocolate chip cookies with almond flakes and maraschino cherries
'the menu' film with Anya Taylor-Joy comes to disney+ on the 18th january, a new DI Wilkins crime novel on 2nd february, season 2 of 'shadow and bone' on netflix 16th march, the fourth inkworld book is set to come out this october!
already been to the cinema and the theatre this year
my colleague Katja gave me the compliment that working with me is very relaxed
the vegetarian sushi burger at sushi le
dreaming about shopping at an Italian delicatessen in Milan or Florence in vivid detail
hot chocolates after lunch at work
lusting after a very hyped british fantasy debut at the weekend and then on Monday my colleague Katharina asked me whether i had heard about a specific book and that was the one! and we are bidding on it!
jan 1 2023 ∞
feb 6 2023 +